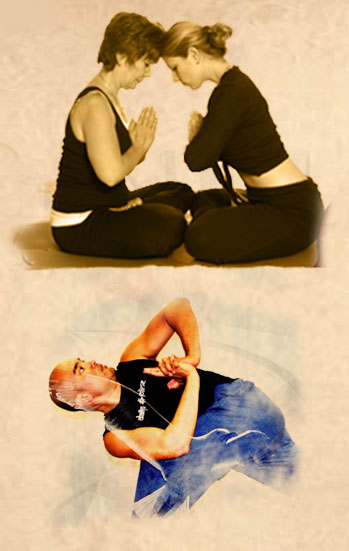 Just like our Martial program Yoga will have the unique exclusivity of classes. We believe in quality vs. quantity and thusly have made our school a place were students will receive individualized attention that is just not possible at a typical studio atmosphere. Husband and wife team of Amanda and Jeremy, both certified yoga instructors, who already made themselves known for their practice to keep students safe and teach them specifics their own body, have found this an even better way of reaching their students.
The beautifully decorated botanical property, which is in the works of becoming an official Florida Wildlife Preserve, is the perfect place to find your Samadhi (Enlightenment). Plants all safe to Florida ecology and have been planted to attract Wildlife like the Florida butterfly. Soothing water features will wash your cares away as you breath in fresh air on our outdoor wood decks, which are covered and have protection from rain (so there is no need to cancel for weather). At our night time classes enjoy the wonderful lit gardens and whimsical lanterns hanging from trees as the sun slowly sets by the end of our 6pm classes.
Our Style of Yoga
All Yoga classes are based from Hatha yoga, which is a mixture of all of the yoga practices. Here at TAMA our teachers have a stronger base in Sivananda, Ashtanga, Iyengar, and Vinyasa Yoga styles. We believe that all styles of Yoga have their good qualities, and so not to be limited we teach a Hatha Flow class (a mixture of yogic practices) that is suitable to all levels of practice. If you are new to Yoga simple tell us upon arrival of practice and we will adjust your practice accordingly, we can even teach parts of class in a chair for those students that need the extra support. You will find once you're comfortable with your basics you will be able to easily adjust and flow with the regular class making your own adjustments as needed. For the Intermediate to Advanced student you will always find a challenge for your practice at TAMA Warrior Arts. From a solid core foundation to the challenging mind/body asana practices like balance and inversions you will never be bored by your practice.
Some Benefits of Yoga
Why take yoga classes?
Unlike any other form of exercise yoga unifies mind, body and spirit. Most forms of exercise focus only on the physical.
What can yoga do for me?
Yoga can help to raise your level of flexibility, strength, mind control, focus, self-awareness and help you to de-stress.
I have never heard of these styles of yoga where do they come from?
TAMA Warrior Arts believes that all styles of yoga have their merits. So we draw upon our experiences to share the teachings, adjustments, breath work, and much more from all styles of yoga. Our classes form from a Hatha Yoga base. Meaning that we practice from the exercise or posture practice of yoga. There are many other areas to Yoga like Karma Yoga the practice of selfless service. We focus on a mixture of Hatha Yoga principles and disciplines.